WELCOME TO THE ELLICOTT CITY VOLUNTEER FIRE DEPARTMENT 2020 VIRTUAL OPEN HOUSE
Day 7 - See you next year!
We hope you have found this year's Virtual Open House to be fun and informative! Sparky has a few final thoughts on kitchen safety to share. Visit our website at: https://www.ellicottcityvfa.com/ for news about upcoming events.
We look forward to hosting everyone next year for the annual Ellicott City Volunteer Fire Department Open House!
Day 6 - Ambulance Tour
Ever wonder how to operate a fire extinguisher? Sparky and Firefighter Pravan will show you everything you need to know! It's a great day to make sure that everyone in the house knows where it's located and how to use it. Your top priority should be to get out of the house and call 911. Please remember to only use your extinguisher if it's a small fire and you can get to your fire extinguisher quickly, use it, then get out. Please check out https://www.ellicottcityvfa.com/content/openhouse/ for todays activities!
Kids:
Make sure to stay 36" from the stove when it is in use. Print out this activity to see where 36" in your stove is.
Adults:
Check out this 10 minute mini lesson on cooking safety!
---
Day 5 - Ambulance Tour
Paramedics and Emergency Medical Technicians are a vital part of ECVFD. Today, Sparky would like to give you a little tour of our ambulance at Station 2. Scroll down for todays' activities!
Kids:
Learn about how to prepare for an emergency!

Adults:
Learn more about how to treat burns and when to call for emergency assistance.
First Aide For Burns
---
Day 4 - Close Before You Doze Coloring Contest
Calling all budding artists! Watch the videos below and decorate the door and room in the flyer linked below. Email your decorated door and room to contest@ellicottcityvfa.com. We'll pick one winner on Sunday 10/11/2020 who will receive a surprise pack of fire-related goodies!
According to the UL Firefighter Safety Research Institute (closeyourdoor.org) "During a fire, closing the door could have a potentially life-saving impact."
Close Before You Doze Kids:

Close Before You Doze Adults:

Click Here to Download Your Door!
---
Day 3 - Engine 21/Squad 2 Tour
Who doesn't love Fire Trucks? Kids, and secretly many adults, love exploring our Fire Trucks. Our videos today will give you a fun virtual tour of our Fire Engine and Rescue Squad.
Engine 21
Squad 2
Kids:
Build your own fire engine!
Adults:
Interested in how the fire engine has evolved over time? Take a look at this blog post on the history of fire engines from the Fire Museum of Maryland.
---
Day 2 - ECVFD History and Activities
The Ellicott City Volunteer Fire Department was the first formal fire department in Howard County, established in 1888 to organize a community based firefighting crew in the event of a fire. The original volunteer organization still exists today. ECVFD, in conjunction with the Howard County Department of Fire Rescue Services (HCDFRS), operates two fire stations, four engines, three ambulances, a heavy rescue squad and two brush units. An additional ambulance and tower are operated by HCDFRS but are housed within the Ellicott City station. We use all these resources to help keep our community safe. During the Virtual Open House we will be providing the community with ways they can keep their homes safe, especially when cooking delicious meals in their kitchens!
Kids:
Download and print this cooking safety seek and find activity from sparky to learn more about how to keep your kitchen safe.
Kids Activity - Cooking Fire Safety Seek & Find
Adults:
"During 2007–2011, fire departments responded to an average of 156,600 home structure fires that involved cooking equipment per year. These fires caused an average of 400 civilian fire deaths, 5,080 civilian fire injuries, and $853 million in direct property damage per year (National Fire Protection Association)". Check out this fact sheet from NFPA for more statistics on kitchen fires.
NFPA - Cooking Fire Facts
---
Day 1 - Welcome
Throughout the week we will be posting to our website to provide the history of ECVFD and share important fire safety tips. This year's open house theme will be Kitchen Fire Safety. The National Fire Protection Association estimates that each year U.S. fire departments respond to over 156,000 kitchen fires. The vast majority of kitchen fires involve cooking. Check back throughout the week for more information about cooking related fires, fun fire safety activities for kids, and information about the history of ECVFD.
---
About
Every year in October the Ellicott City Volunteers hosts an open house at Station 2 on Montgomery Road during Fire PreventionWeek. Unfortunately with the pandemic, we will not be able to open our doors to the public this year, for your safety and the safety of our First Responders.
So, we will be doing things a little different this year and we look forward to you joining us for our FIRST EVER VIRTUAL OPEN HOUSE! The theme is kitchen fire safety. Scroll down for fun fire safety videos and activies for all ages.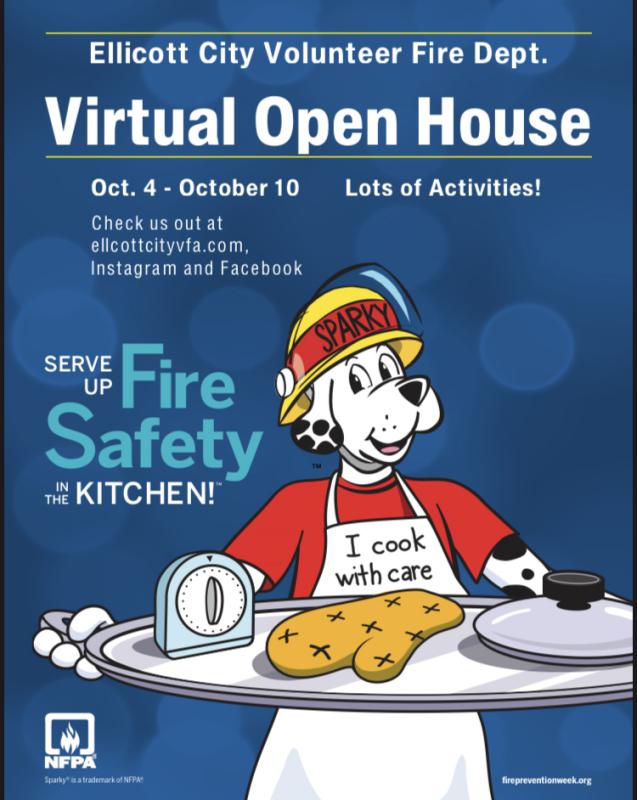 ---
Cooking Fire Safety
This year our virtual open house will focus on kitchen fire safety! We will be sharing with you ways to cook safely, how to stay safe if a kitchen fire starts and ways to prevent a fire from starting.